Support: 972-898-7921 or 203-421-6471
(Please see Intro Price Labels for printing price tags using BCSS Intro.)
---
Print Price Labels Using Deluxe, Diamond or Virtual
Price labels and hang tags (with or without bar codes) may be printed with most laser-style and dot matrix printers (on sheets of labels). (See About Labels for label sizes.)
Thermal price labels may be printed using BCSS Diamond or Virtual and a thermal LABEL printer. Bar codes may be printed on all thermal labels. (See About Labels for label sizes. See Thermal Labels for information about thermal labels.)

Bar codes may be turned off (not printed on labels). In Program Setup, Printers, uncheck 'Check this box to include bar codes on appropriate price tag widths'.

User-Defined Groups can be printed on thermal labels measuring 2 x 2, 4 x 2, 4 x 3, 4 x 4, and on sheet hang tags (4.25 x 1).
---
Preparing the Laser and Dot Matrix Printer for Sheet-Label Printing
Before attempting to print with BCSS and laser or dot matrix printers, first confirm that the printer is working. Hold down the control key (now) and press P. On the screen that appears, select the printer and click OK or Print. This page should print. If not, please refer to your printer's documentation.
Something to Check
: Go to Start, Control Panel, then Printers and click on your printer. If there are print jobs listed, right click in the white area and choose to cancel all print jobs. (This is the printer queue or printer buffer.) While there, try a test print.
Troubleshooting
: If the problem persists, turn off the computer and printer. Check cable connections. Turn the PC and printer on. Make sure the printer software is installed by verifying that the printer is listed in the Control Panel > Printers. Verify that the printer has ink and paper and that there are no paper jams. See the printer manual for running a self test. (Also see
Troubleshooting
.)
If the printer is functioning, in BCSS on the Main Menu, select File (then Program Setup):

Select Printers:

In the Print Documents section at the top, use the drop-down menu to select the printer to be used to print 8.5 x 11 documents (like sheets of labels). (Select the A4 paper size only if you're in a country that supports that size.)
If a printer is not listed then it is not installed on the computer. Refer to your printer's documentation, installation CD or the manufacturer's website for instructions for installing the printer.
If no receipt printer will be used, the printer selected for Print Documents will be used for printing full-page receipts, or a different printer may be selected for Receipt Printer.
Under Price Tag Print Adjustment at the bottom, check 'Wide' for Laser-Style printers or check 'Narrow' for dot matrix printers.
Bar Codes will be printed on price labels by default. If bar codes are not desired, uncheck 'Check this box to include bar codes...'. (If this option is not present, it will be necessary to email support to have your program and database updated.)
Print Preview may be turned off by checking 'Don't display print preview screens' but it is not advisable if print previews are expected for such things as labels and checks.
No other settings on the Printers Page will affect printing with a document printer.
---
Available Labels in BCSS
Depending upon their size and style, price Labels may be printed with Item ID, Disposal Code, Category, Description (20 characters), Details, Date In, Discount Schedule and Bar Code.
Small Labels (1/2" x 1-3/4", 80 per sheet) can only include Item ID, Date In, Price or Discount Schedule, Description and Disposal Code.

---
Bar-Code Labels can have Disposal Code, the Bar Code and Number, Description, Price and Item ID.
---
Medium Labels (1" x 2-5/8", 30 per sheet)
The Medium Price Label will always have Item ID (which is the Consignor ID plus Item #, like Ader-1: Last Name: Ader, 1st item for consignor Ader), a Description and a Price.
These options can be printed on Medium Labels. They are 'turned on and off' in Program Setup (Inventory):
Date In - the date the item was checked in. If this is turned off, the category will appear on the label. If the Discount Schedule is 'on' the Date In is the first date in the Schedule
Discount Schedule - The Current Price is the first price in the Schedule. Details will be printed if the Schedule is turned off.
Disposal Code - a 'secret code' for return, destroy, donate - can be any letters - set in Program Setup (Inventory)
Medium Label with Disposal Code
and Discount Schedule 'turned off':





(Actual Size: 2 5/8" x 1")
Medium Labels are printed with laser-style (Avery # 5160), Inkjet (Avery Label # 8460) or dot matrix (Avery Label # 4144) printers on sheet labels, 3 across 10 down - 30 labels per sheet. Each label measures 2 5/8" x 1". (See About Labels.)
---
Also see Detailed Labels or Hang Tags.
---
Which Labels to Print?
Price Labels may be printed for one or several consignors and/or inventory items.
Price Labels may be printed with any combination of Category, Consignor, Date of Last Sale, Date In, Date Discounted, Item ID, Price or Price Range, Sales Location and by 4 'User-Defined Groups'.
---
How to Print Labels
Select Labels on the Main Menu...

The Inventory Screen will be displayed by default.
Tell BCSS which labels to print by making settings on this page.
To include only items in stock that were checked in during September, 2009, check 'Quantity Greater Than 0' (to avoid printing labels for items that are not in inventory). Check the box named 'Date In' and enter the dates 9/1/2009 and 9/30/2009 in the From and To fields:
---
Note that boxes must be checked in order for settings to apply.
To print one or a few labels on a partially-used sheet of labels, make the appropriate settings to determine which labels to print then enter the number of the next available label on the sheet in the field to the right of 'Print Labels From #' and feed the partially-used sheet into the printer with the used end first. Example: If 11 labels have been used, enter the number 12. BCSS will begin printing on the 12th (next available) label and print the number of labels desired.
Sort Output By -
Select the order in which labels should be printed. This is helpful for matching labels with items:
---
Select the Label Style -

Click the Print Button:

If 'Bar Codes on Avery Stock' are selected, a screen will appear with bar-code options. (See Bar Code Labels.)
If 'Thermal Labels' is selected, labels will begin to print. (See Thermal Labels.)
For all other options (Detailed Labels, Hang Tags, Medium or Small Labels) pressing the print button presents the labels in a Print-Preview Screen. If the labels are correct, click the printer icon:


If possible, print only one page of labels at a time to avoid a number of printing problems: print interruption (power failure, cord unplugged, printer turned off, print job lost in printer buffer, out of ink or paper, paper jam). When attempting to print more than one page of labels, make sure there's ample paper and ink, that the printer is in 'like-new' condition, that dot matrix ribbons are fresh. Monitor multi-page print jobs and be ready to stop the printing process if a problem arise.
---
Windows Print Setup
The next screen to appear is the Windows Print Setup Screen. (It should not be necessary to change settings under 'Setup' on this screen, except to assure that Orientation is 'Portrait'.)
The settings should be:
Name: The correct printer name should appear here.
Size: Letter
Page range: Current page (or All)
Orientation: Portrait (Never 'As Preview')
Number of copies: Normally 1
When settings are correct, press OK to start printing.
---
Troubleshooting
If labels are printing misaligned -
1. Turn the printer off to stop the printing process.
2. Go to Start > Settings > Control Panel > Printers. Click on the listing for your printer. Click on 'Document' then 'Cancel'.
3. Turn the printer back on and clear the paper.
4. Change Print Settings to correct print position by changing the values under Avery Label Margins on the Labels Screen.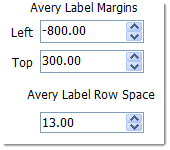 Large changes in numbers are necessary to see movement in print position. The settings of Left: 350 and Top: 300 are common settings for laser printers. For 'All-in-One' fax/printer/copier/scanners, try settings of (Left) 350 and (Top) in the 1900 to 2100 range. For the Hewlett-Packard All-in-One: 1500
If the last column of labels is cropped with a left-margin setting of zero, try a negative number.
Record settings in case BCSS is reinstalled in the future.
---
If labels for desired items are missing or labels appear for unwanted items -
1. Turn the printer off to stop printing.
2. Go to Start > Settings > Control Panel > Printers. Click on the listing for your printer. Click on 'Document' then Cancel.
3. Turn the printer back on and clear the paper.
4. Change settings on the BCSS Labels Screen to add or omit labels.
As an alternative, if labels are missing from the set, print the labels that are present, then make settings on the Labels Screen to print labels for those items which were absent.
---
Related:
Print Discount Schedules on Labels
---
For free email support, send us an email. For fee-based phone and remote-PC support please contact Joy Archer, enJoy Consigning Services, 972-898-7921, email or Russ Cox, Cox Technology Associates, 203-421-6471, email