BCSS and Printers
BCSS is compatible with most laser, inkjet, bubble jet and dot matrix printers.

---
About Printer Drivers
A 'driver' is software that converts data to be printed to a form the printer recognizes. Like any software, drivers sometimes become corrupted or lost and need to be reinstalled.
When basic troubleshooting steps don't resolve printing issues, click on one of these links to locate the printer driver:
---
With BCSS INTRO Print:
Address Labels
Checks (1 per page or 3 per page)
Lists of Clients, Sales and Settlements
Labels on a partially-used sheet of labels
Price Labels (one per item - Information must be reentered each time labels are needed.)
Reports (details about your business)
Sale Invoices (Receipts) on 8.5" x 11" paper
---
With BCSS Deluxe, Diamond, and Virtual print these additional items:
Bar Codes
Hang Tags
Lists of Inventory, Disbursements and Checks
Lists of Buyers and Employees (Diamond and Virtual)
3" Multi-Ply Receipts using a Receipt Printer
Multiple Price Labels for Same Item
Reprint Price Labels for Existing Items
Thermal Price Tags (Diamond or Virtual using Thermal Printers)
---
'Document' Printers
These are typically ink printers (inkjet, bubble jet, LaserJet) and dot-matrix printers that print on 8.5" x 11" paper. They are referred to as 'document printers'.
ink Printers
| | |
| --- | --- |
| | ink printers are the most common. They may be used with BCSS to print sales receipts on 8.5" x 11" but that may be a waste of paper and some store owners feel this style of receipt doesn't present a good image. Ink is also expensive so many stores use a special 'receipt printer' to print cheaper and more attractive 3" sales receipts (which may be printed in duplicate). |
Dot Matrix Printers
| | |
| --- | --- |
| | A dot matrix printer or impact matrix printer refers to a type of printer with a print head that runs back and forth over the paper and prints by impact, striking an ink-soaked cloth ribbon against the paper, much like a typewriter. Unlike a typewriter or daisy wheel printer, letters are drawn out of a 'dot matrix' allowing varied fonts and arbitrary graphics. Because the printing involves mechanical pressure, these printers can create carbon copies. |
---
Printing Receipts with Laser and Dot Matrix Printers
Laser and Dot Matrix printers print receipts (sales invoices) on full sheets of 8.5" x 11" paper. This is an example of the upper portion of the BCSS Sales Receipt: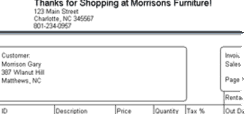 While this method is convenient (no special setup, printers already in place and/or cheaper than thermal printers) and produces a professional-looking receipt, it can be the most costly in the long run because ink cartridges are expensive, more so if 2 copies of invoices are necessary. As seen below, special receipt printers cost more initially but use printing technologies (ink ribbon or thermal) that avoid ink ink cartridges.
---
Is a Dedicated Receipt Printer Necessary?
Patrons of consignment stores know they are purchasing used merchandise. They have the opportunity to inspect items before purchase and they understand that items are being sold 'as is'. They typically accept (if not expect) a 'no-return policy' so in many cases, it is not necessary to print a receipt. Moreover, many customers are satisfied with the credit-card transaction receipt. Of course hand-written receipts would also be acceptable for purchases with few items.
Every edition of BCSS has a built-in receipt that can be printed in the Excel Invoice format with any ink printer on a full sheet of paper, which may be sufficient for an occasional receipt, making a costly thermal receipt printer ($284) unnecessary.
In Diamond and Virtual Specials thermal LABEL printer can be substituted for thermal RECEIPT printer for $100 more, so money is being invested in a printer that will be used more frequently. The labels will be cheaper (about 1c each). They will be easier to produce and they will look more attractive. (Deluxe does support a thermal RECEIPT printer but not a thermal LABEL printer.)
To substitute the LABEL printer for the RECEIPT printer on the order page, place a 1 in the box named 'Special/Label Printer'.
---
Receipt Printers
Receipt printers can be dot-matrix (impact with ribbon) or thermal (heat transfer with print head).
A receipt printer prints one or multiple copies of a receipt (on 3" roll paper) showing the details of the sale: date, items, quantity, price, subtotal, tax, total amount.
A dot-matrix-impact printer uses the older technology of ink ribbon and the impact of a printer head against the ribbon to place ink on the paper. The 'impact' does make it possible to use 3-ply paper and multiple ink colors are available. There is some (negligible) noise during printing.
A thermal printer uses thermal heat to apply ink to paper. Printing is silent. Copies of the receipt may be printed by reprinting the sale.
A cash drawer and receipt printer emulate a cash register. A cash drawer can be connected to a receipt printer. When a receipt is printed, the cash drawer opens. (The POS-X drawer may be connected directly to the PC allowing the drawer to be opened with a key press.)
BCSS has been configured for the POS-X line of printers and the Epson TM-U220 printer.
BCSS has not been configured to work with the following printers and we do not support them, but clients have reported using these printers (with varying degrees of success:
Easyset A9 MiniPrinter (some odd characters possible)
Epson TM-T88IV
Samsung SRP350 (same as Bixolon SRP-350+II)
SNBC BTP-2002NP
Star SP212, TSP600/700, TSP 613 and DP8340
The easiest way to determine if a receipt printer (other than those mentioned) will work with BCSS is to install the printer, run a self test, select the printer in BCSS Program Setup (Printers) and print a sales receipt. If the printer doesn't work contact support to have the printer driver added to BCSS (fee-based service).
---
Receipt Printer Setup
Receipt printers are shipped with manuals explaining how to setup them up and use them. They should not be used with USB ports on the front or side (which may have less power). The cable should be tested with another piece of hardware to assure that it is functional.
In BCSS, go to File, Program Setup, Printers and select the printer to be used for printing receipts.
Font size can be adjusted for Headers and Text by changing the values for Receipt Printer Settings in Program Setup, Printers.
---
Thermal Price Tag Printers Please see Thermal Printers.
---
Best Consignment Shop Software© 2001-2016