Computer Screenshot

888-427-5779
Take a picture of what you're seeing on the monitor.
Screenshots and Captures
It's very easy with Windows to create an image which reflects what is displayed on the computer monitor.
Win 7/8/10 Snipping Tool
The Snipping Tool can create an image of the entire monitor screen, or any part of it. The options are free form, rectangular, entire window or full screen.
The image can be annotated, saved, shared or emailed using the 'Send Snip' button.
The Snipping Tool is available only in the Home Premium, Professional, Ultimate, and Enterprise editions of Windows 7/8/10.
Open the Snipping Tool
To open the tool for the first time, click on Start and type snip. Right click on 'Snipping Tool' and choose to pin it to the Taskbar. This icon will be added to the bar:

While viewing the screen to be captured, click on that icon to open the tool whenever it's needed.
Using the Tool
Open the screen to be captured.
Click on the tool's icon on the taskbar.
Click on the down arrow to the right of 'New' and select the type of capture:

Free-form Snip will allow the use of the mouse to encircle the area to be captured.
Rectangular Snip will allow the use of the mouse to define a rectangular capture.
Window Ship will capture the top window.
Full-screen Snip will include everything in view on the monitor.

With the capture made, select options on the Snipping-Tool menu to create a new capture, save or copy the current capture, email it, highlight, annotate and erase annotations.
Under Tools are options default settings:

Help is also available by clicking on Help on the toolbar.
---
Use Windows Print Screen for Captures
Sometimes it might be quicker to hold the control key down and press PrtScn (upper right) on the keyboard. (Your keyboard will likely look somewhat different.)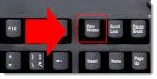 It will appear as though nothing happened but the capture of the screen will have been placed on the Windows clipboard.
Open a program like MS Word or Outlook and press Ctl+V to past the capture in the Word document. (Many programs will allow editing of the image including resizing.
For a capture of the top window only, hold down the Alt key and press PrtScn.
Screen-Capture Alternatives
Software vendors like TechSmith offer screen-capture programs like 'SnagIt' which can be worth the money if more options are needed than those provided by Windows functions (like capturing a scrolling window, recording a video or adding edge effects.
---
Related: