BCSS Intro Edition
These are the differences between Intro and Deluxe, Diamond and Virtual
Intro's price of $295 is a one-time payment, as are payments for BCSS Deluxe, Diamond or Virtual. (The latter allows consignors to add inventory and view their account balances online which requires an $89 server rental in the first year and a $189 annual renewal which is not mandatory if the online features are discontinued.)
With any edition of BCSS there are no annual support fees and ownership of the copy of the software purchased is passed to the purchaser for lifetime use. (The software cannot be transferred to anyone.)
Inventory is entered in Intro only at the time it is sold, so there are no records of unsold inventory, no automatic discounting of aged inventory and no reports about unsold inventory.
Intro only supports the use of a laser or dot-matrix printer. Deluxe or higher is needed to use a cash drawer, receipt printer or bar-code scanner. Diamond and Virtual support thermal label printing and networking.
Price labels may be printed by entering items in a table in Intro, but the entries are not saved. Reprinting any label requires reentering item information. Price and address labels, consignment agreements, receipts, sales/settlement/disbursement reports and checks can be printed using any standard ink or dot matrix printer.
Intro doesn't support the use of barcodes or a listing of unsold items so at POS each item must be entered manually (as opposed to selecting an item from an item list, entering an Item ID or scanning a barcode).
These features are not included in Intro: buyer fee, buyer records, consignor online access to inventory and balance data, data import/export, employee management, QuickBooks data export, disbursement records and reports, house accounts, inventory pictures, layaways, networking computers, rental sales, sale on hold, sales promotions, split POS payments, thermal price labels, wish lists.
The 'Training Panel' in Intro is replaced in Deluxe, Diamond or Virtual with handy Quick Links (which bring common functions and important information to the surface in the software's User Interface).
BCSS Deluxe, Diamond and Virtual support the use of certain cash drawers and receipt printers. Any barcode scanner is acceptable.
Diamond and Virtual support networking (connecting 2 or more computers to share the same database simultaneously), thermal label printing, records and management of employees, records (with demographics) of buyers (who make purchases) and wish lists.
BCSS Virtual allows consignors to add their inventory and view account balances online and it is directly integrated with QuickBooks.
Credit card transactions can be processed completely outside of BCSS so any card processor can be used. All editions of BCSS are also integrated with credit-card processing. Just select the type of card that was used as the payment method at POS.
---
Intro Quick Start Guide
The following steps are for BCSS Intro. For Deluxe, Diamond and Virtual go to BCSS Quick Start.
1

Enter shop Information & tell BCSS about your business, including which printers to use. Click on File then Program Setup. Click on the colored tabs to view setup screens.

2



Add a Consignor (F2)

Enter as much or as little information as you. Mark records to receive mailings. Set Consignor %, what to do with unsold items...

3



Press a button. BCSS auto-fills the Agreement with shop/consignor information - then print!

4



Click on Labels on the Main Menu (shown right) then Price Labels. Enter items and click OK. Make sure your printer is working with BCSS before making several entries.

7



Make a Sale (F6)

Enter each item for the Sales Invoice and use Preview and Print, or Save..

8



Make a Settlement (F7)

Settle for one Consignor or use Batch Settle to process several settlements at once.

9



Use the New Disbursement option in the Disbursements menu to prepare and print checks or make other types of payments.

10



Create Reports

Click Reports on the Main Menu and choose a report.
---
Print Address Labels for Clients
Instructions for printing address labels for clients are the same for BCSS Intro, Deluxe, Diamond and Virtual. (Diamond and Virtual also prints address labels for buyers using these same instructions.)
The following instructions are for printing address labels on sheets of labels. The TSC Thermal Label Printer (and BCSS Diamond or Virtual) can also print address labels.
Address Labels are printed on 2 5/8" x 1" adhesive labels, 3 across, 10 down, 30 labels per sheet. The Avery Label #s are 5160 (LaserJet), 8460 (bubblejet) and 4144 (dot matrix).
Before attempting to print labels, in BCSS go to File, Program Setup, Printers and designate a printer for 'Ink Printer'. An ink printer is any ink or dot matrix printer that commonly prints on standard 8.5" x 11" letter-size paper. In BCSS, consignment agreements, reports, sales receipts and sheets of Labels can be printed on standard letter-size stock.
Before attempting to print with BCSS, first confirm that the printer is working. Hold down the control key (now) and press P. On the next screen select your printer and click OK or Print. This page should print.
Something to Check: Go to Start, Control Panel, then Printers and click on your printer. If there are print jobs listed, right click in the white area and choose to cancel all print jobs. (This is the printer queue or printer buffer.)

Troubleshooting: If the problem persists, turn off the computer and printer. Check cable connections. Turn the PC and printer on. Make sure the printer software is installed by verifying that the printer is listed in the Control Panel > Printers. Verify that the printer has ink and paper and that there are no paper jams.
---
Identifying and Grouping Clients for Address Labels
Any Consignor can be identified in BCSS by:
Active or Inactive Status
Birth Date
Birth Month
Should Receive Mailings
Should Receive Sales Reports
User Date (any date you wish)
User Text (any text you wish)
Unsold Item Disposal (return, donate, destroy, transfer to shop ownership)
Activity in BCSS can also be used to identify Clients:
Account Balance
Date of Last New Item
Date of Last Sale
Date of Last Settlement
Any combination of the above identifiers can be used to create a group or list of clients for mailing labels.
---
Open the Address-Labels Screen
To access the Address-Labels Screen, select Labels on the Main Menu:

With BCSS Intro, after clicking on Labels, select Address Labels.
For all BCSS editions, the Labels Screen will be presented. (Applicable sections of the Screen are shown below.)
---
Group Clients for Labels
Tell BCSS exactly for whom Address Labels should be printed by making settings on the Address-Labels Screen.
Example 1: To print labels only for Active Clients who are to receive Sales Reports, check Active Only and check Sales Reports:

Example 2: Print labels only for All Clients with Account Balances between $50 and $200 - Check All. Check Account Balance and enter 50 and 200 in the From and To fields:
Account Balance must be checked for the $50-$200 range to apply.
---
Sort Print Output
Before printing, decide in which order the labels should be printed. Select from ID, Name, New-Item Date or Settlement Date to group the labels for orderly tagging:

---
Print the Labels
Select Mailing Labels on Avery Stock:

Labels will be displayed on a 'Print-Preview Screen'. If undesirable names appear or if some are missing, close this screen and change the settings to add or delete names, then preview again. If the labels are correct, use the Printer Icon to go to the Windows Print Setup Screen:

---
Test Print
Print one sheet of labels on a blank white sheet of paper (not a sheet of labels). Place that page over a blank sheet of labels, square them and hold them up to light to verify that the print aligns with the labels.
If the labels are printing correctly, shut the printer off and turn it back on to clear the print job. Repeat the printing steps above and print only one sheet of labels for a second verification. If that's OK, add more sheets of labels to the printer tray and finish printing.
Note: It might be better to feed one sheet of labels at a time to avoid the risk of paper jams, out of ink and other unsuspected interruptions to printing.
---
If labels are printing incorrectly -
1. Turn the printer off to stop the printing process.
2. Go to Start > Settings > Control Panel > Printers. Click on the listing for your printer. Click on 'Document' then Stop Printing.
3. Turn the printer back on and clear the paper.
4. Change settings on the BCSS Labels screen to add or omit labels.
5. Use the Label Margins Adjustment Settings to properly align print position (and record these numbers for future reference): Most ink printers use margin settings (Left) 350 and (Top) 800-850. For 'All-in-One' fax/printer/copier/scanners, try settings of (Left) 350 and (Top) in the 1900 to 2100 range. For the Hewlett-Packard All-in-One: 1500
If the last column of labels is cropped with a left-margin setting of zero, try a negative number.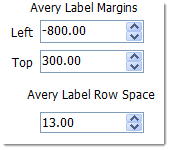 (Large changes in these values are necessary to see noticeable changes in print position.)
6. Repeat these steps until the labels are printing correctly.
---
Partial Sheet of Labels
If a partial sheet of labels is being used, count the number of used labels on the sheet and set Print Labels from # to the next highest number. This will tell BCSS to skip the first used label locations and start printing on the first available label on the sheet. Remember to feed the partial sheet of labels with the used section first. Another method is to print only full rows of labels (if fewer than 30) then feed the unused end of the sheet of labels first to print the remaining labels.
The problem some printers might have is feeding a partially-used sheet correctly. An option is to print a number of labels that matches the number of labels remaining on the sheet and feed the sheet, unused end first.
---
Repeat Labels
For those addressees that are used repeatedly, consider downloading Microsoft's Address Labels Template from http://office.microsoft.com/en-us/templates/TC011832781033.aspx?CategoryID=CT102530721033. Enter the addresses once and save the file. Print the file as more labels are needed and/or store the printed labels in folder.
---
Tip:
If only a few labels are needed or the clients for whom labels are needed can't be grouped or isolated using the available settings, edit each Consignor record by adding some unique text to the User Text field. Enter the word 'label' for example, then for report settings, enter 'label' (no quotes) in the User Text field. Only Consignor records marked with the unique User Text 'label' will be included.
This can also be done using the User Date field. Enter the same date for each Consignor then in report settings check User Date and enter the unique date. Only those clients with that date in their User Date field will be included.
---
Things to Know about Checks
BCSS auto-prepares Check Disbursements if the Payment Method for Settlement is 'Check'.
Attempting to print a check for a cash disbursement or for a disbursement marked as Not Approved will generate an error message.
If a check is created but won't be printed, change the check's status to Not Approved so it cannot be printed and will not affect reports. (Select the check in the Disbursements Work Area and click 'Approved/Canceled'.)
For some printers, it may be a bit difficult to determine the correct row spacing settings to print 3 checks per page. A work-around is to turn off '3 Checks Per Page' in Program Setup and print 1 check (the first print position) at a time, printing one check, tearing it off and refeeding the remainder of the sheet of checks.
---
Check Setup
Go to File, Program Setup, General Tab and select either one check per page or three.
Print a check on a blank sheet of paper and hold it up to the light with a check behind to make sure the print lines up with the check's fields.
The Top and Left Margins and Row Space may need to be changed (on the New-Disbursement Screen) to print correctly. The default settings of (Left) 350, (Top) 850, and (Row) 13 are correct for most ink printers.
---
Prepare a New Check for Printing
Select New Disbursement from the Disbursements Work-Area Menu.
Complete the fields on the New-Disbursement Window:

The next available check number and current date are auto-entered and may be changed. The starting check # is 1000.

Enter the payee's name and the amount of the payment. Other information is optional.
Select Bill, Cash Disbursement or 'Other' for the type of payment. ('Other' includes settlements and commission payments.)
When entries are complete, press OK.

The new check will now be listed in the Disbursements Work Area.

Select the check.
Select the print position for the check (Top, Middle or Bottom).
Click OK to print.
When printing a check for the first time (or when printing for the first time after the program has been uninstalled and reinstalled), print on a plain piece of paper to see where the print would have been placed on the actual check, then adjust the margin settings to place the print in the correct position on the check.
---
Adjust Print Position on Checks
It may be necessary to adjust top and left margins and row spacing to place print on checks in the proper positions. Align print for the first check. Alignment for checks 2 and 3 (on 3-check-per-page) should be ok.
The settings for margins and row spacing are located on the Edit-Disbursement and New-Disbursement screens.
Follow these procedures for determining correct Print-Position Settings:
If there are no checks to print, use New Disbursement in the Disbursements Menu to create 3 fictitious checks. (They can be marked as 'Not Approved' later or BCSS may be reinstalled later to erase test data.)
Choose the checks in the Disbursements Work Area. (Check the status of the check at the bottom of the screen. Status must be 'Approved'. If the check is shown as 'Canceled', it will not print. Either choose an Approved Check or click the Approved/Canceled option in the Disbursements Menu to change the status to Approved.)
Select 'Print Check' from the Disbursements Menu.
On the Check Position Screen, 'Top' should be selected by default. Select 'Top' if it is not selected.
Click on the 'Close-Window X' in the upper right corner of the Check Position Screen.
View the check on the Print-Preview Screen. If it appears to be correct, place one blank sheet of paper in the printer. (Feed one sheet at a time to avoid misfeeds.)
Click the print button.

Place the printed sheet over a check and square the 2 sheets.
Hold them up to the light and observe where print would have been placed on the sheet of checks.
To adjust print position, double click on the check record to open its Edit Screen. Settings for Margin and Row Space appear on the right.

Large changes in the values for top and left margin are necessary to see significant changes in print position.

It may be necessary to use negative values to achieve correct position. Top or Left Values could be from -500 to 2500. Row space could be from 5 to 20.

If the print position is too high, increase the Top-Margin Setting, or vice versa.
If the print position is too far to the right, increase the Left-Margin Setting, or vice versa.
Use the Row-Space Setting to increase or decrease the distance between lines.
When the correct settings have been determined, record the settings (off of the computer) for future reference.
---
Print the Check
Select a check from the List in the Disbursements Work Area.
Select Print Checks in the Disbursements Work Area Menu (lower left).
A Check Layout window will appear. Select which check position to print, Top, Middle or Bottom.
View the check on the Print-Preview Screen. If it appears to be correct, click the print button.
---
Cancel a Check
Select the check from the List in the Disbursements Work Area.
Select Edit Disbursement and select Not Approved, then OK.
Canceled checks do consume a check number but do not affect store income.
---
Checks and Accounting
A cash disbursement is processed the same as a check but no check number is used and no check is printed.
Cash and check both decrease store income.
---
Buying Checks
Three checks per page is the most common choice because there's less paper waste. Have them prepared by your bank to include special security measures against fraud.
If not already done, go to File, Program Setup, General and select either one check per page or three.
Settlement Checks
Adjust Print Position on Checks before attempting to print checks.
---
Pay One Consignor by Check (See Pay Multiple Clients below.)
When 'Check' is the payment method selected for a settlement, BCSS prepares a check for printing and lists it in the Disbursement Work Area.
To pay a consignor by check, after the settlement has been processed -
Go to the Disbursement Work Area.
Select the check to be printed from the table by clicking on it.
Select Print Check from the Disbursements Work Area Menu (lower left).

On the next screen

(not shown)

, select a print position for the check

(top, middle or bottom)

.
Click the X in the upper-right corner of Check-Position Window to close the window.
The print that will appear on the check is presented in a Print-Preview Window.
If the information is correct, click the Printer Icon on the top menu:

The next screen to appear is the Windows Print Setup screen.

The settings should be:

Name: The correct printer name should appear here.
Size: Letter
Page range: Current page
Orientation: Portrait (Never 'As Preview')
Number of copies: 1

When settings are correct, load a blank sheet of paper in the printer and press OK to start printing.
Place the printed page over a check page, square them and hold them up to the light to verify that the print will appear in the correct positions on the check.
If the print position is incorrect, follow the procedures for Adjusting Print Position on Checks.
If the print positions are correct repeat the printing of the check but load the check into the printer.
---
BCSS Intro Inventory
In BCSS Intro, inventory is entered at the point of sale, not before. Discounts and Payment Methods (Cash, Credit Card, Gift Certificate, etc.) may also be entered at that time.
Not pre-entering inventory saves time but aged inventory can't be batch or auto-discounted and a price label can't be reprinted without reentering the item. (BCSS Deluxe, Diamond and Virtual do store inventory records. Labels can be reprinted. Items can be batch entered and edited.)
Shop Inventory includes:
Consigned items - Items provided by consignors
Resale items - Items owned by the shop (sold through the Transfer Account)
Donated items - Unsold items donated to the shop
---
Processing New Inventory Items
When a Consignor brings new items into the store, use current shop methods for tagging items or use BCSS to print stick-on price labels. These labels may be applied to hang tags for items that aren't suited for sticky labels.
Please refer to Intro Price Labels for details.
---
To print price labels with BCSS Intro -
In Intro, on the Main Menu, click on Labels.
Select Price Labels Help for detailed instructions.
---
Selling Shop-Owned Inventory
A 'Transfer Account' is an account for the shop (the 'house') used to sell shop-owned inventory. Just set up a Consignor account for the shop using the shop's information.
Important: Enter a 1 (not 100) in the Consignor % field when setting up the Transfer Account. (1 = 100%; 100 = 10000%)
Consignor Credit Sale
A Consignor must have a credit before making a credit purchase. Clients obtain a credit by accepting store credit for sold items.
Create a store credit by settling sold items for credit.
See Settle One Consignor.

Process a Consignor Credit Sale
Select Consignor from the Main Table then select Credit Sale from the Clients Menu.
The New-Sale Screen will open with the Consignor's information entered and the amount of credit listed in 'Paid' field:

See New Sale for the remainder of the sales process.
Intro - Process a New Sale
Press F6 to open a blank sales invoice. 'Cash Sale' will appear in the 'Bill to' field and may be replaced by the Buyer's name. Enter as much buyer information as desired.
A (yellow) line will appear in the grid for item entry.



The Item ID will be entered by BCSS when a Consignor is chosen in the Consignor ID field.

Click in the box below 'Description' and enter a name of up to 20 characters for the item.
Enter price and quantity.
Click in the Consignor ID box. A down arrow will be presented. Click on the arrow and select a Consignor (the owner of the item):


Note that when the Consignor is selected, the item will be assigned an ID which will be the Consignor ID like 'Keen-2' which would indicate that the item is Consignor Keen's 2nd item.
If other items are to be added, select Click to Add Another Item and repeat the entry process:

Remove an item by clicking on its line and pressing:



By default the Terms and Payment Method are set as Prepaid and Amex (American Express). Change these as needed:



Sub totals and tax will be computed and displayed. Discounts may be entered here:





Enter the amount paid:



The Due field will change to reflect the amount of change due to the buyer:



In this example, the total sale was $535. The amount paid was $540. Change due is $5.

Preview and Print
When all items have been entered, click Preview and Print to view the invoice on screen in a print preview:



If no preview or print is necessary, use the Save button to save the invoice:



On rare occasion it may be necessary to force a calculation. To do so click:



Use the close button to close an invoice without saving it:


---
Settlements - Finalizing Consignment Sales
Shops 'settle' with consignors (usually at month end), providing the consignor with payment and a report of items sold.
BCSS automates settlements by computing the shop's and consignor's shares, crediting their accounts, preparing a settlement document for printing and totaling payment due each consignor.
---
Processing Settlements (F7)
1. Press F7 or click on Settlements in the Work-Areas Menu.
2. Select New Settlement:

3. Select a Consignor to open the New-Settlement Screen.
4. Check items to be included in the settlement.
5. Enter any additional amounts or deductions.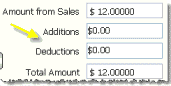 6. Enter notes for the Consignor or for the shop.
7. Click 'Save and Exit' or 'Save, Print, Exit' to print.
Unchecked items will appear the next time the Consignor is chosen for settlement.
The total settlement due is automatically calculated and entered.
A Settlement # is auto-created and displayed in the Settlement # field.
---
Batch Settlements
See Batch Settlements.
---
---
Negative Number on Settlement Screen
Intro does not track inventory, so when an item is sold and subsequently returned for refund or exchange, Intro will display a 'minus one' (-1) on the New-Settlement Screen. This number has no effect on final calculations.
New Features

Each time a work area in BCSS is accessed the computer takes a little time to load data for that work area into RAM memory. Going to another work area and coming back to the loaded work area should then be nearly instantaneous.
The program is tiered in features and price so startups and small shops can acquire basic functions without having to purchase unwanted features.
Intro is a simple POS program with basic reports that doesn't track unsold inventory. Price labels can be printed.
Deluxe adds inventory management and supports the use of QuickBooks, cash drawers, receipt printers and barcode scanners. The primary difference is that labels and tags are printed with an ink printer and sheets of labels and tags (or plain 80# paper).
Diamond adds support for networking, thermal label printers, employee management, mall-space rental and buyer records.
Virtual provides online features: Clients can view their account information online and add inventory online (for downloading at the shop).
All of the following features are included in BCSS Diamond and Virtual. Several are included in BCSS Deluxe. None are included in BCSS Intro.
Batch Functions - Batch edit or delete inventory by category, client and/or date. In Program Setup on the client page, enter a city, state and/or zip to have that information appear each time the new-client record is opened.
Batch Transfer Manually to Transfer Account - Select multiple aged inventory items from different consignors and categories and move them to the Transfer Account at once.
Buyer Fee - Deduct an amount from sales proceeds per item before splitting with the client. (This is part of an optional module ($19.95/mo) that includes passing credit-card charges on to consignors and buyers.)
Buy Outright - Buy items from individuals and record information about sellers, items and transactions, including buy prices. In BCSS use Batch Buy Outright and select 'Process BO Settlement Now' to settle with sellers and print price labels.
A Google calendar can be accessed under Help.
Consignment Agreement may be edited within BCSS (Utilities, Edit Consignment Agreement). Copy/paste is allowed.
Credit-Card Charges can be passed on to consignors and sellers (where allowed) to recover some or all of the cost of accepting credit cards. (This is part of an optional module ($19.95/mo) that includes deducting a 'buyer fee' before splitting with the client.)
Credit-Card Processing is not integrated with BCSS (so any card processing service may be used). A separate module may be added which allows deducting a set percentage from settlements of credit-card sales only, and/or adding a set % to credit-card sales, and/or deducting a set percentage from all sales prior to applying the consignor split.
Credit Limit Displayed at POS - The amount of credit set in the Buyer Record appears automatically when processing a new sale (for reference only).
Credit Purchases Deducted Automatically from Client Balance
Discount after Transfer to House - Items may be auto-transferred to store ownership and auto-discounted after the transfer.
Discount by Category - Any inventory category can have its own aged-inventory discount schedule.
Disposal Codes - Some store owners don't want buyers to know how unsold items will be disposed. Price tags can be printed with Disposal Codes for Destroy, Donate or Return. Store Employees will know the codes but buyers may not. The codes may be changed periodically to maintain secrecy. Set the codes in Program Setup (Inventory).
Employee Permissions - Allow or deny each employee access to BCSS areas in Point of Sale, Back Office and Management.
Full-Screen Display Check this setting in Program Setup (General tab) to maximize BCSS screens.
Import/Export Client and Inventory Records from/to spreadsheets. Import/Export Buyer Records using BCSS Diamond or Virtual.
In Dates, Barcodes, Disposal Codes and Discount Schedules on price labels
Inventory Classification - Use Inventory Groups and Sub-Groups to make Inventory Classification easy and exact. Four Groups are available, They can be named anything and each can have unlimited Sub-Groups. For example, a Group might be 'Manufacturer' and its Sub-Groups might be 'American', 'Ashley', 'Broyhill', 'Bush', 'LazyBoy', etc). Then, when adding or editing an Inventory Item, the Manufacturer can be selected from a List of Manufacturers.
Inventory List for One Client - View or print a list of inventory for one client.
Mailbox Feature: Mark individual consignors with notes of action to take at a later time and/or print and mail letters to consignors. (In BCSS, select a Client, Edit, Mailbox; or right-click on the client and select Edit Mail Box.)
Non-Tax of Clothing Items below $50 - Any clothing item sold for under $50 will not be subject to tax on the sales invoice. This includes items that may have been priced over $50 and subsequently reduced to under $50 from automatic or manual discounting. (Originally designed for stores in Connecticut)
Pictures! - Add a picture (stored locally or online, no larger than 620 x 700 pixels) of any inventory item to its record.
Profit/Loss Breakdown on the Sales Report Screen generates a list of sold items showing costs related to each item. It includes client share, employee share, promotional discount, buy-outright share, retail cost with totals by client and grand totals. A net profit/loss appears last and takes bills paid (Disbursements) into account. On the sales report screen, check the Invoice-Date Box and enter a date range, then press Profit/Loss Breakdown.
QuickBooks is directly integrated with BCSS Virtual. Data can be exported from BCSS Deluxe and BCSS Diamond and imported into QuickBooks.
Reminders - Be alerted to contact patrons (on a specific date or when they come into the store) and have notes for reference.
Reports Added
Inventory Report: Returned, Donated and Destroyed Items - Generate, view and print records of such items. When generating a report, on the Inventory Report page, select options from the drop-down menu named Disposition.

Disbursements Report: Payments to One Client - On the Disbursements Report page, select the client from the drop-down and set other filters to refine the search results.
Clients Reports: 'Positive Store Credit' and 'Negative Store Credit' on the Clients Report page.
Retail Sales capabilities for recording retail-items purchases from businesses (vs individuals), processing sales, calculating profit/loss and producing reports.
Right Click - Select an item in the list of consignors, settlements or sales then RIGHT-click on the selected item for a menu of functions like edit, delete, etc.
---
Search Records -
In November, 2013 (version 6.0.850) the search boxes were replaced by a new search function. Watch a video
Settle and Pay One Client - No need to wait for 'batch settlements' and 'batch payments'.
Sort Records Columns containing both letters and numbers will be sorted as text so numbers will appear in order of 1,10,2, not 1,2,10. Due to a limitation of the component used in the program, numbers also sort as text in reports and in lists of labels.
To sort records, click on headers. In the Inventory Work Area, for example, click on ID1: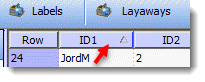 Click the header again to reverse the sort order.
To leave the sort order as it is for ID1 and to then sort ID2, hold down the shift key and click on ID2.
Taxes- Multiple taxes may be applied to each item and items can be made non-taxable or non-taxable below a stipulated amount. For example, a clothing item price below $50 is not taxable in Connecticut.
Undelete Inventory - Restore the record of Inventory Items that have been deleted.
User Date- Mark client records with a specific date then view or print a list of consignors for that date only.
User-Defined Inventory Groups - Inventory is 'categorized' by designating a 'category' for each item. Set up Groups (like color, size, style and brand) and Sub-Groups (like red, green, blue and white, for color) for each category and select from those options when adding or editing an inventory item. UDGs are useful for grouping and finding inventory.
User Text can be any text added to a client or buyer record to uniquely identify the person. The text might be a single word (like 'best'), then a list can be generated to only include those persons.
| Function | Function Key |
| --- | --- |
| Manual - User's Guide | F1 |
| New Client Screen | F2 |
| New Inventory Screen | F3 |
| New Layaway | F4 |
| New Rental | F5 |
| New Sale | F6 |
| New Settlement | F7 |
| Inventory Entered Today | F8 |
| Today's Recap | F9 |
| Sold Today | F10 |
| Settled Today | F11 |
| Hidden - Opens cash drawer | F12 |